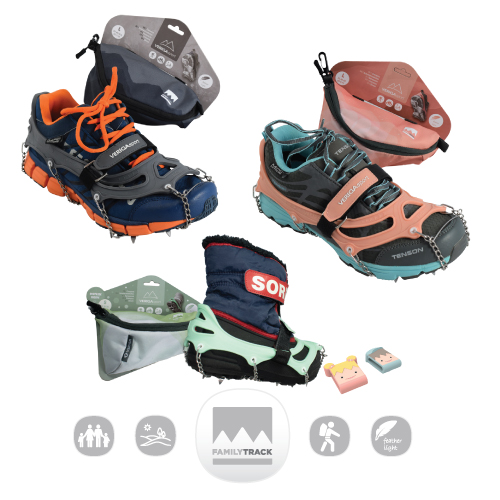 Veriga K.F., d.o.o.
FAMILY TRACK
FAMILY TRACK crampons are your reliable companion for family fun on the snow, on winter walks in nature or for a walk through the icy and snowy city streets. They are also suitable for the youngest family members (from No. 26 on).
They are made of lightweight and durable materials, which makes the product conveniently small, lightweighted and comfortable. The shape of the spikes enables optimal grip on snowy and icey surfaces, while optimal spikes length
and thoughtful construction reduce the risk of. For extra stability each models comes with a safety lycra strap.
These crampons are not suitable for extreme mountaineering!
For more playful step, each children's crampons come with cute clips that are placed over the strap.
Sizes:
Mens: L (40-44,5), XL (45-48)
Women: M (35-39), L (40-43)
Kids: XS (26-29), S (30-34), M (35-39)